Hand Forged Cane Bolt Set
These cane bolts were made here in Tucson by the same blacksmith who makes my speakeasy grills and wrought iron hardware. The hammered back plate is 1/4" thick and the bolts are 5/8" in diameter! Massive and heavy duty, they are the only bolts I use on my rustic gates. The bolts can also be used on entry and interior doors for the ultimate in style and security.
I have two sets available for immediate delivery. A set includes a top and bottom cane bolt and a bracket for the top bolt. The bottom bolt back plate is 22.5" x 2", the top back plate is 16.25" x 2". Both sets are designed to be used on a right hand door (hinges on the right standing outside).
Price: $498 per set (1 top bolt, 1 bottom bolt, 1 top bracket) and includes free shipping in the continental US.
Sale price: $399 per set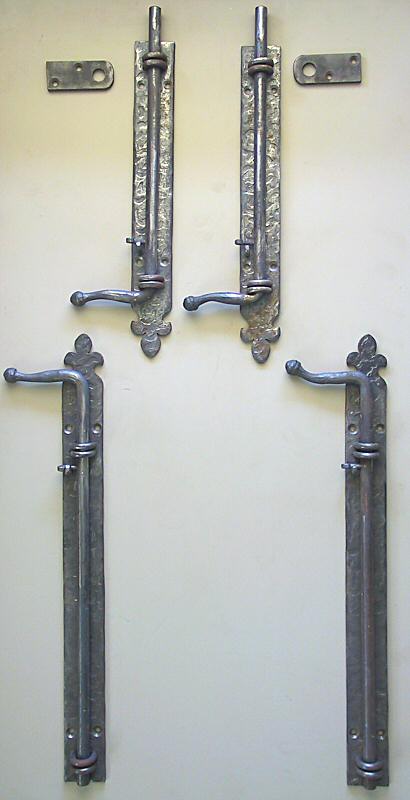 RAW Acoustics Center Channel Speaker
RAW Acoustics HT2C center channel speaker with Aurum Cantus ribbon tweeter in black oak veneer. 8/10 condition.
Price: $275.00 + shipping + 3% PayPal
Shipping is based on zip code, please contact me using email link below.
The HT2-C is an MTM center channel speaker combining the excellent midrange of CSS WR125ST midwoofers with the clarity of an Aurum Cantus G2si ribbon tweeter for great dialogue and music. 17" width fits in most AV racks, TV stands and entertainment centers.
All the drivers are high quality, the Aurum Cantus G2si sells for $127.88 at Parts Express.

Features:
- 2 x CSS WR125ST 4.5" matched woofers with cast aluminum frames, copper phase plugs and XBL² motors
- 1 x Aurum Cantus G2si ribbon tweeter
- High quality parallel crossover network
- Solen air core inductors
- Solen polypropylene capacitors
- Silver wiring
- Single pair gold-plated all metal binding posts
- Well constructed enclosure lined with 1" Ice Absorption sound damping material
- Black Oak veneer
- Magnetic grill
Specifications:
Frequency Response: 70Hz - 40KHz +/-1.5dB
Impedance: 10 ohms nominal, 8 ohms minimum
Sensitivity: 88dB
Dimensions: 17"W x 7"H x 10"D
Weight: 20 lbs.