WGH Woodworking can coordinate and supply your entry door hardware. I work with one of Arizona's largest distributors to supply 20 brands of entry and interior door hardware to accommodate any style and budget. Custom finishes and locks for extra thick doors are a specialty. I can also supply matching hinges, weatherstrip, door bottom sweeps, and thresholds to complete your door package.
My prices are 10% off the retail price. Many of the companies now have current retail prices online along with their online catalog.
If you have any questions or special requirements, please e-mail or call and we can discuss current pricing and options.
Click on a manufacturer below to view their current catalog.


I design all the wrought iron hardware I use, which are hand forged by a local blacksmith. The hammered and riveted grills are about 11" x 14", but any size is available. 8 hand forged square head lag screws are included. The available finishes are rust and black oil (shown below). The grills are $225 each which includes shipping inside the continental US.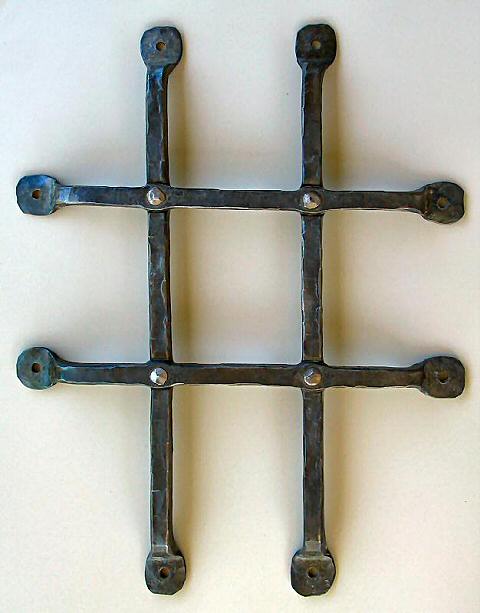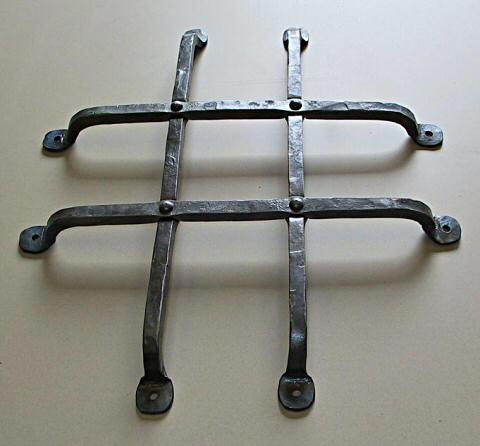 I use hand forged hinges and latches for all my speakeasy doors, available in many styles to compliment your hardware, 2 hinges and a latch is $250.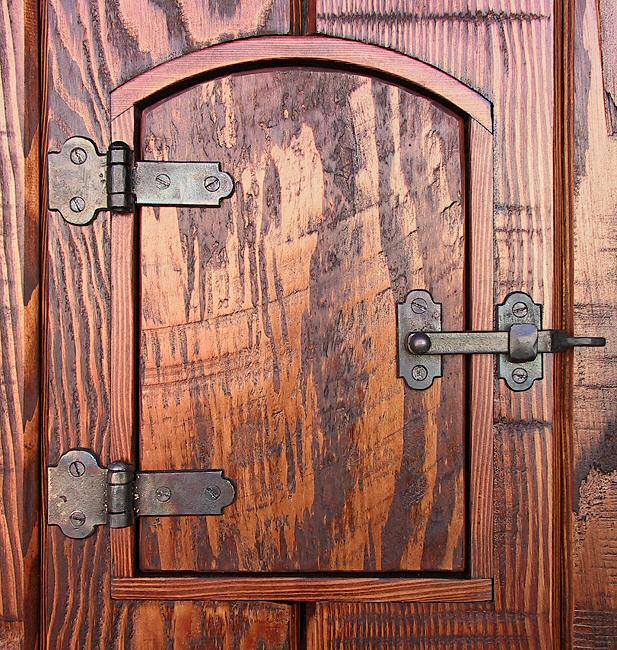 Forged cane bolts add an authentic rustic look to your entry door or gate, the price will vary with size and style. Prices start at $250 each.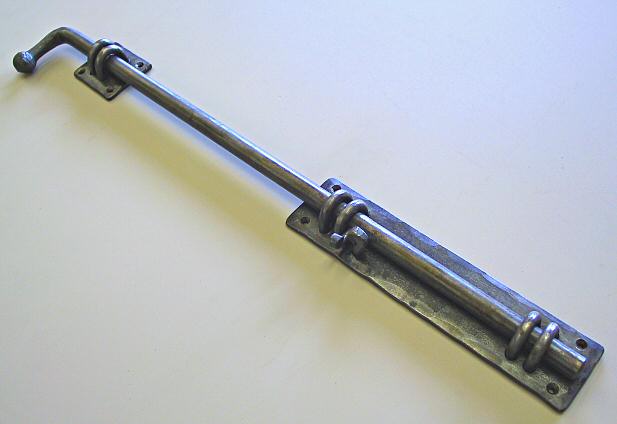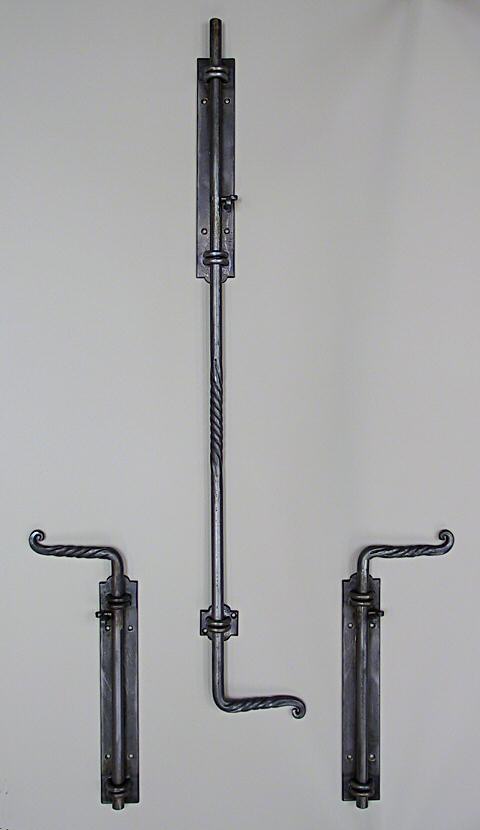 A wrought iron snake screen door pull adds a bit of whimsy to an entry.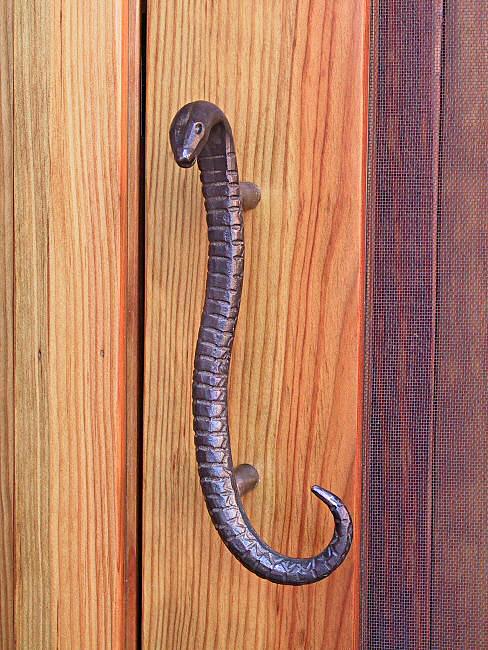 Rosettes
The decorative rosettes I use on my rustic doors are similar to the classic style rosettes that have been used on doors in Spain and Mexico for hundreds of years. These rosettes are very hard to get, and you won't find them anywhere else on the internet. Cast bronze with a patina, they come with a decorative clavos (nail) for installation. Please call or email for availability. If you need more than I have on hand, orders can take 4-6 weeks, otherwise I usually ship the next day.
All rosettes are $15 each and are available in 2 patinas:
verde or dark bronze finishes.

Shipping cost is based on weight, each rosette and nail is about 1/2 lb.

Payment is by check, money order, Pay Pal, or credit card.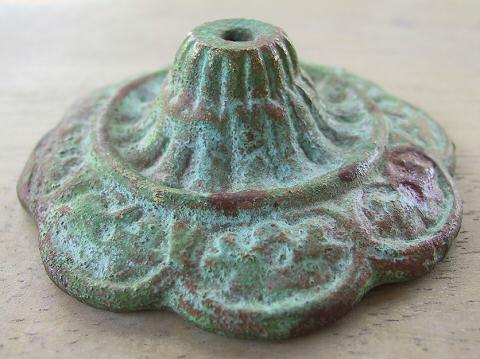 3 3/8" diameter bronze scalloped rosette - verde patina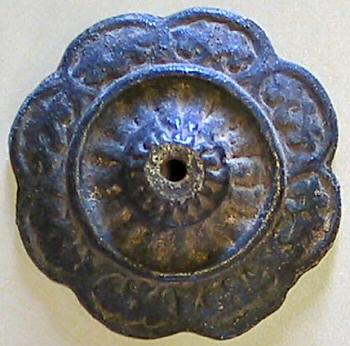 3 3/8" diameter bronze scalloped rosette - dark bronze patina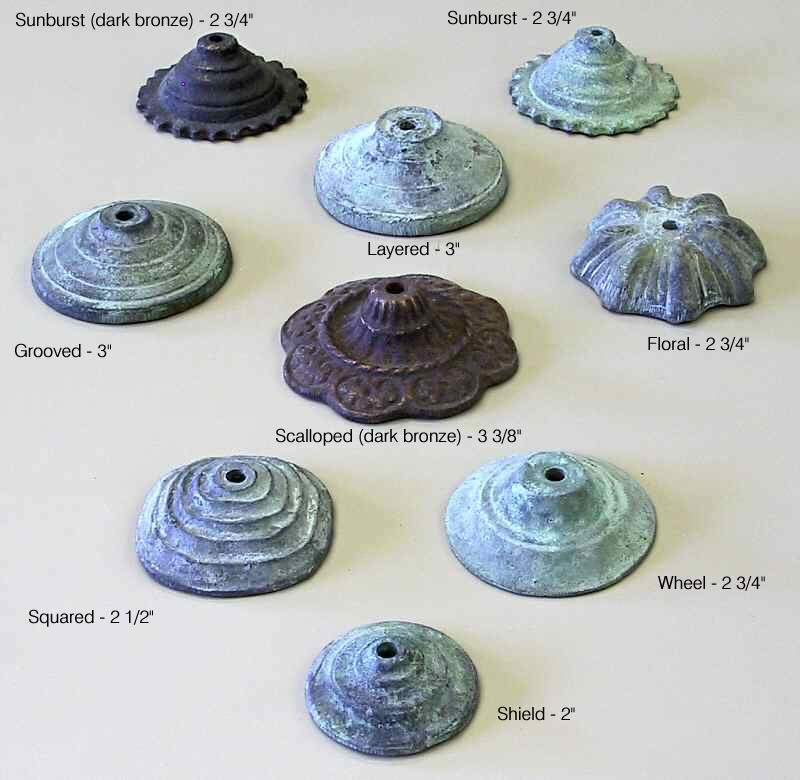 | | | |
| --- | --- | --- |
| 3 1/4" bronze clover rosette | 3" bronze grooved rosette | 3" bronze layered rosette |
| 3" bronze round rosette | 2 3/4" bronze wheel rosette | 2 3/4" bronze sunburst rosette |
| 2 3/4" bronze floral rosette | 2.5" bronze squared rosette | 2 1/2" bronze shell rosette |
| | 2" bronze shield rosette | |