Recently I have been taking my camera and tripod on some of my weekend hikes. Each panorama is made up of 60 to 96 photos that are stitched together into a 360 degree Quicktime Virtual Reality (QTVR) movie.
The 9100' high Santa Catalina Mountains are North of Tucson and are part of a sky island archipelago consisting of 27 mountain ranges. The mountain has 4 distinct ecosystems starting at the Sonoran desert and transitioning to a pine and fir forest. A fire in June and July of 2003 destroyed the town of Summerhaven and burned thousands of acres of mature woodland. The mountain is slowly recovering, and the panoramas show both the beauty and the devastation.
Click on a photo to view, you will need the free Quicktime Player, which you probably already have installed. An updated player can be downloaded from the Apple website.


Aqua Caliente Canyon, 4 miles from the Camino Remuda trailhead


Box Camp Trail, 3 miles from trail head, looking toward Sabino Canyon


Mt. Lemmon Trail, 3 miles from trail head


Mt. Lemmon Trail, 4.25 miles from trail head looking into Romero Canyon with Cathedral Rock in the distance


Wilderness of Rocks Trail, looking into a boulder strewn valley


Wilderness of Rocks Trail, 4 miles from Marshall Gulch trail head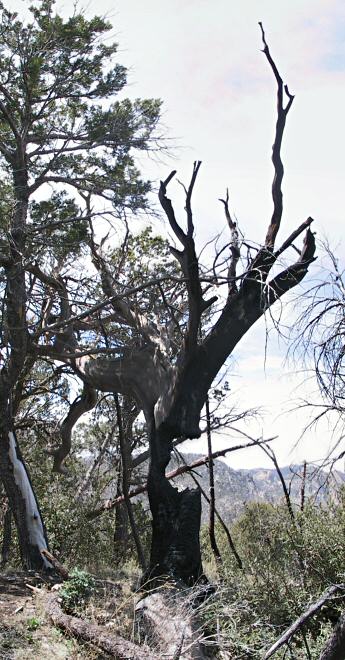 Guthrie Mountain, Santa Catalina Mountains
A burned out tree at the summit after a steep scramble, Mt Lemmon is in the distance. Click on the photo to see how to get up to the top. I was perched about half way up the climb, with my tripod, in the wind.

In the Coyote Mountains by Three Points, AZ at the base of a hill, there is a Madonna. Click on the photo to see her home.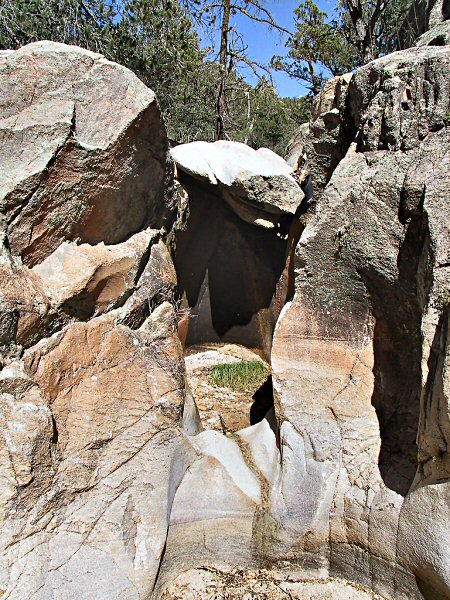 Here is one location I would not want to be during the rainy season. A small horse shoe canyon with a cave under the waterfall. The location is about 2 1/2 miles down a trail that is not on any map in the Catalina Mountains.
The photos are taken with a Canon G1, tweaked in Paintshop Pro, stitched together using Autostitch, and turned into a QTVR movie using Pano2QTVR.