I use a Williams & Hussey molding machine to make molding for my custom doors. The machine is easy to set up and practically any profile can be duplicated.

Woodworkers, contractors, and homeowners can easily order custom molding that will match existing profiles or accent custom furniture with matching hardwood moldings.
The W&H Molder is perfect for:
Short runs of molding
Custom molding in any wood
Match existing molding
Curved and Elliptical Moldings
Wide profiles up to 6 3/4"
The price of molding depends on the wood choice, how many feet are run, milling time, and custom knife fees. The customer can save money by providing the wood. Woodworkers can pre-mill molding stock and get same day service and/or trade a custom knife for free molding time, a great deal if you need the same profile in different woods throughout the year.
Standard patterns are shown below. Molding not shown will need a custom knife charge. Knife prices are by the inch and run from $122-$280.
Please call or e-mail and we can discuss your project.

---
Crown Moldings
CR002
3 1/2"x 3/4"
CR003
2 1/4"x 3/4"
CR006
2 1/2"x 5/8"
---
Casing

CA001 - 3 5/8"x 3/4"


CA004 - 4 7/8"x 3/4"


CA005 - 3 1/4"x 1/2"


CA007 - 2 5/16"x 5/8"


CA008 - 2 5/8"x 5/8"
---
Molding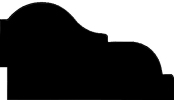 M009 - 2 3/4"x 1 1/2"


M010 - 2"x 15/16"


M011 - 1 1/2"x 1 1/8"


M012 - 1 3/8"x 1"